Buy bitcoins with a credit card
Buying bitcoins with Mastercard or any credit or debit card was pure chimera until a few years ago.
However, today the companies that have decided to start accepting credit card payments also for Bitcoins (find out the Bitcoin guide) are more and more.
Buying bitcoins with Mastercard or with any credit card is a fast and preferable operation if you need one small amount of criptovaluta quickly.
Buy bitcoins with a credit card only if you know that the value of Bitcoin could go up or down
Procedure to buy Bitcoin with a credit card
1) Choose an Exchange, then a web portal, or an App that is able to sell bitcoins for card payment (not all are enabled). Some examples are:
eToro
Accept credit, debit and paypal cards
Over 10 million users in the copy trading platform
0% commission
Coinbase
One of the world's best known and most trusted cryptocurrency exchanges
Buy and trade cryptocurrencies on the platform
It has high transaction fees
Binance
Very high trading volume
The BNB has its native cryptocurrency
High commission for credit and debit cards
The best example I can give you for App instead is without a doubt Crypto.com app for Apple , app for Android, entering the code v8tqhz5494 you will have 50 dollars credited if you staking 50 MCO
2) Sign up and send KYC , or a valid identification document, a bill or bank document certifying that you are Italian and a selfie (this information is essential for buying)
3) Wait approval (from 1 to 5 days)
4) Enter your own credit card and make the deposit in Euros and then buy (on spectrocoin). On Coinbase instead insert the credit card and buy the currency directly.
Credit card fees
Since the risks are stronger in credit card transactions, there is an additional intermediary that is the issuing institution such as Mastercard so the commissions are high and vary from Exchange to Exchange, we can say that we average from 3% at 6% commission.
Buy bitcoins with Postepay
On all platforms that accept credit cards it is possible to buy bitcoins also with Postepay.
Postepay and Postepay Evolution, although they are debit cards, they are absolutely accepted in the 2 exchanges I mentioned before, so just follow the same procedure.
Buy bitcoins with postepay "not a financial advice"
Buy with postepay recharge
Even with postepay recharge it is possible to buy bitcoins. The reasons for such a choice of method lie first of all in the fact that you have full freedom of payment, then in security and control, transparency and neutrality, speed of reception, very low commission costs, and last but not least, being able to address yourself directly at the post office.
So just top up the postepay and then buy.
Buy Bitcoin with Bank Transfer
This is the most recommended solution, after the usual KYC login and verification procedure a transfer is made (usually Sepa because it's very convenient) to an exchange and you're done.
The commissions are very low in this way, we are talking about the cost of the transfer. The only problem that you have to wait for crediting from 1-3 days.
Exchange or buy Bitcoins with other coins
On this site below you can either exchange (if you have other coins) or buy with mastercard.
Buy Bitcoin with the Crypto.com App
There are several apps for buying bitcoins, I recommend this app from Crypto.com which also has its own MCO currency.
Procedure on Crypto.com with $ 20 bonus
Download the app on Android or Itunes
Register
Enter the code v8tqhz5494
Send your documents to KYC
Receive the 20 dollars welcome bonus
Press the buy button and buy bitcoins with a credit card
Buy bitcoins with eToro
At this point we cannot fail to talk about eToro, one of the most popular and best solutions in the world to buy bitcoin. eToro is simply one of the easiest systems to use to buy bitcoins and therefore also suitable for beginners.
Among the advantages offered by this platform, we remember the possibility to copy in a completely automatic way, what the best operators do. What is it about? A sort of automatic trading that begins with the search for the best investor or at least the one best suited to your needs.
It is no coincidence, therefore, that all those who are now starting to buy bitcoin for the first time choose eToro. Here is a quick guide to sign up, deposit money and start buying bitcoins with the best broker in the world:
Step 1: open an account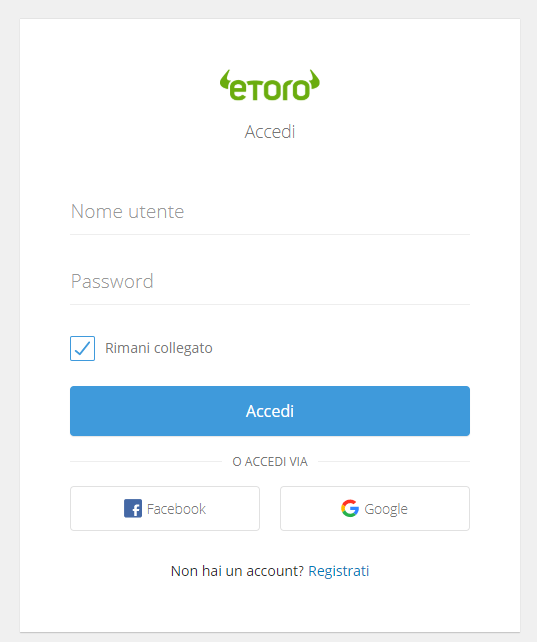 Log in to the eToro website and open a new account by clicking on the "Sign up now" button. In the registration form you will have to enter the correct personal information to open the account.
Furthermore, with eToro you have the possibility to log in through your Facebook or Google accounts, skipping the completion of the free registration form.
Step 2: verify identity
eToro is a safe and regulated broker and for this reason, it requires all new users to submit the KIC. This is an additional verification of identity, which requires a digital copy of your national identification card, passport or driving license to be sent to the site.
Step 3: Deposit Funds and Buy Bitcoin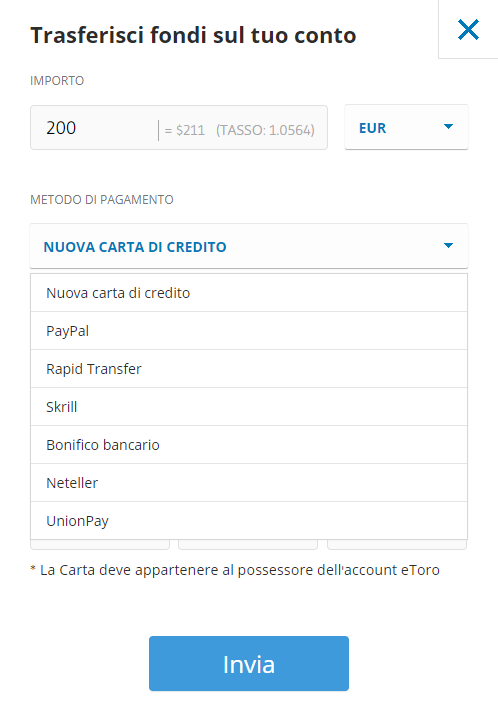 Now you just have to deposit your funds in eToro's electronic wallet, using a credit card or bank transfer. Depositing the funds can also be done via other popular payment methods such as Skrill, Neteller and PayPal on all. It is possible to start with a minimum amount of € 200, which is more than enough to start buying bitcoins with eToro.
Buy bitcoins with Coinbase
Coinbase is another company known all over the world, which offers the possibility to buy and sell digital assets and, of course, also to buy bitcoin. It is one of the most famous and used legal software in the world and thousands of users sign up on its website every year to invest or even to use its safe and secure bitcoin wallet.
According to reports from the website of the same company, Coinbase currently has a base of over 10 million users. Crazy! The website is available in over 32 countries around the world and on their platform it is possible to buy bitcoin and other cryptocurrencies such as Ethereum, Bitcoin Cash, Ethereum Classic, BAT, 0X, Litecoin, etc.
Buying Bitcoin with Coinbase is really very simple, here's all you need to do:
1. Sign up on Coinbase
First, log into the Coinbase website and click the button on the top right Start here. A pop up will immediately open to create your new account by entering your basic personal information such as name, surname and email address. Additionally, you will need to choose a secure password to protect your account.
2. Fund your account
Now is the time to put some money into your account, so you can buy bitcoins as soon as you're ready to go. Again, you will have many payment methods to choose from, including credit cards (Visa and Master Card), bank transfer and e-wallets.
3. Buy bitcoins
At this point you just have to proceed with the purchase of your favorite cryptocurrency. In fact, in addition to buying bitcoin, on Coinbase it is also possible to buy a wide range of famous cryptocurrencies which, according to analysts, should see an exponential increase in their value in the coming months.
Bitcoin Wallet
Finally, where do we keep the Bitcoins we bought? The best solution is to transfer them to our hardware wallet, one of the most famous is the ledger nano.