Launched in 2008 by the Swedish startup Spotify AB, Spotify is a music service that offers on-demand streaming of a large selection of tracks from various record companies and independent labels. With over 75 million users in 2015, it reaches 140 million active users, with more than 70 million paid subscribers in 2017.
Spotify, available in both free and paid versions, is popular in most European countries, the Americas, Australia, New Zealand and some Asian countries. Music can be viewed in various ways: by artist, by album, by genre, by label or by playlist thanks to advanced and direct searches.
Developed in 2006 in Stockholm, Sweden by Daniel Ek, it was released publicly in 2008. While free accounts were available by invitation only, paid subscriptions were available to everyone at launch.
Also, in that same period, numerous licensing agreements were announced with many of the most well-known major record companies. To date, to meet the needs of its users, Spotify has announced the birth of Spotify Unlimited and Spotify Open, thus guaranteeing one of the most popular free "shuffle" streaming programs by consumers.
Spotify shares today
The Spotify group has developed a business that particularly exploits advertising revenues, in fact in its version the music is interrupted by regular intervals of commercials, this while the user is listening. For the paid version (about 10 euros per month) the music is listened to without advertising interruptions and allows unlimited listening.
Thanks also to its strategic alliances with important groups, such as Netflix and Tinder, in 2018 the Spotify group makes its big entry on the stock exchange, deciding to diversify its streaming offer and proposing journalistic content, thanks to an alliance with various publishers.
The introduction of this stock on the stock market made a lot of talk about it, as its first session closed with an incredible rise of 12,9% on the market. Spotify's entry on the stock market was carried out through a direct listing procedure, with which the group cannot raise fresh capital.
This entails both for the current shareholders the obligation to wait for the actual stock market entry to be able to sell their shares, as on the other hand for all those interested in investing their capital in the company, to wait for the real listing of the shares. .
To date, the Spotify group is not really very profitable since unfortunately no profit has been generated in the ten years of existence, but investors are above all attracted by the great potential that this company has, which has 71 million paying users. As Spotify is the world number one in the sector, it certainly deserves the trust of those interested in investing in this enterprising startup.
What is eToro
It is the world's leading platform in the world of online trading, the best known and most appreciated with 10 million more than satisfied and satisfied users. The portal allows its users to enter the world of the stock market in a simple and safe way. Platform suitable for all users, therefore allows even the less experienced to be part of this exciting financial reality.
eToro offers on the site a wide range of stock markets in which you can invest with the possibility of being able to constantly monitor the performance of your shares. Over the years, this innovative platform has secured the trust of many investors, who can no longer do without using it.
eToro has been operating in the financial sector for over a decade and with its simple, insightful and very cutting-edge interface it is the best solution for anyone who wants to invest their capital in shares.
The advantages of using eToro
The platform offers two ways to be able to move easily and safely within it, let's analyze them together below.
SOCIAL TRADING: this mode will give you the opportunity to compare yourself with experienced traders, who can help you and give you advice in order to choose more effective and useful financial strategies to grow the capital you intend to invest.
COPY TRADING: this highly appreciated option will give you the opportunity to imitate more profitable investments completed by other competent traders.
CUSTOMIZED TIMES: by paying a minimum extra commission you will have the possibility to obtain customized hours and days, so that you can keep your position on the market open even on closing days.
TWO DIFFERENT MODES: with the possibility of using both the demo version and the live version it opens to all groups of users, from the most experienced to the less experienced.
DEPOSIT: the minimum amount required to start investing is only 200 euros.
How to buy Spotify shares on eToro
Investing in Spotify shares on eToro is very simple and below I will show you the few steps you will need to follow:
Registration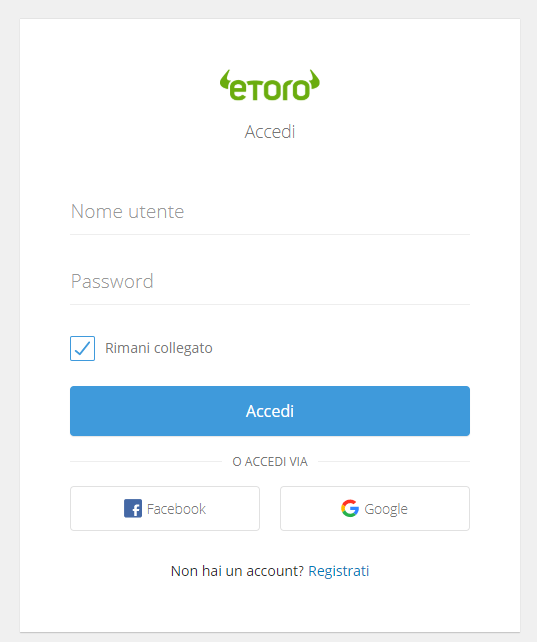 First you need to open an online account on the platform, you can access it directly from the home page and fill out a form with all the personal data requested. Then send the above form by e-mail to the address indicated with your valid identity document attached. From here you have 30 days to confirm your identity and complete the registration and thus activate your account.
Deposit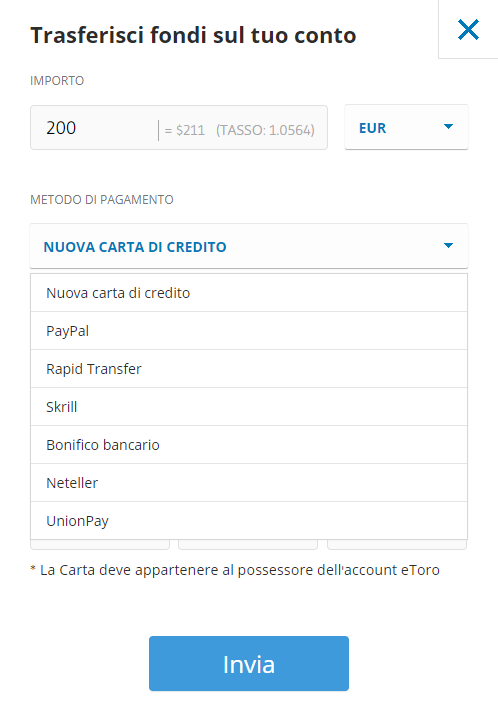 Secondly, once your account is activated, you will need to deposit the capital you want to invest (minimum required 200 euros) and choose the preferred payment method, including the most popular credit cards, bank transfer or electronic wallet, the best known is PayPal.
Demo version
Especially aimed at less experienced people, it will follow step by step illustrating the best way to manage your investments, as well as elucidating you on the platform itself.
Live version
Version open to everyone, more experienced or more fearless users who want to start investing right away. After these few simple steps you can start investing in Spotify shares.
How to create an account with Libertex
The platform offered by Libertex is also very popular with beginners. This software has a very simple user interface to use and for this reason it is also appreciated by beginners. However, thanks to advanced trading tools, even professional traders use it regularly.
Follow these 3 steps to sign up and start using the platform in less than 10 minutes:
Open a new page and type Libertex in the search bar. From the broker's main page, register to open a new account.
At this point you can start trading after financing your new account, making a deposit with credit cards or bank transfer.
Remember to confirm your identity within 30 days to leave your account active and be able to withdraw. Now you can start trading live!
Libertex is also available on tablets and mobile phones, regardless of the operating system, because its site is optimized for the screens of mobile devices and can be accessed directly from a browser, without the need to download any application.
How to view Spotify stock chart and invest on eToro
Once you have finished the actions indicated on the registration procedure, you just need to start investing your capital. By accessing the financial markets, choose the goods and consumption option and locate the Spotify shares. From here, you will directly access the home page of the online trading portal of the start-up in question.
You will finally be able to buy or sell the related CFDs, monitor the stock chart and follow the trend of the shares through constantly updated statistics. Last recommendation, but not least, always remember to set your stop loss and your take profit, only in this way you can safeguard the capital you are investing.
Spotify shares forecast and what is the cost of Spotify shares
Having gained popularity in no time, Spotify has become one of the most used new applications in recent years. After having consolidated in the sector in which it operates, the company has begun to forge important alliances that have allowed its users to take advantage of and make the most of this application, giving them the opportunity to share its contents.
The success achieved thanks to innovative updates, has led its creator to want to expand further on the stock market with a value of 26,5 billion in 2018. It must also be said that, unfortunately, in recent times due to various events , listening to music has dropped a bit among the population, but it is certainly not the worst thing in the world.
The app still holds 90% of the revenue from paid subscriptions. Most of the analysts who evaluated this new company, highlighted an average future price per single share of $ 160,42 against the current $ 120. Experts predict it could grow by 28,89% in just one year.
Conclusions
The various efforts made by the company must certainly be praised, which has been able to offer increasingly innovative services to its users and has distinguished itself from other competitors for its marketing strategies.
It goes without saying that the various close partners of the group are excellent indicators of a company that has all the trump cards to be able to reach higher and higher.
To conclude, all you have to do is make your evaluations, analyze the history of this start-up and carry out a technical analysis in order to then be able to decide whether to invest in this increasingly flourishing company.