Buying bitcoins in cash: The ways to buy bitcoins are different, and of course there are also cash.
However, before even going on to describe the ways that can be used to buy bitcoin for cash, we must point out that bitcoins are virtual currencies, and as such, they are not physical in nature, so if you see an ad for a sale of bitcoin in currency, or in plastic or metallic paper, stay away: it's a scam.
Having said that, let's move on to evaluate the valid options for buying bitcoin for cash.
Buy bitcoins in cash
Prepaid card
First of all, you can use the most common ways to buy bitcoin for cash, or recharge your Postepay, top up with debit card and top up with service card.
Western Union also accepts cash for the purchase of bitcoins, and paysafe card is another absolutely reliable method that allows the purchase of bitcoins from the tobacconist in cash. Among other things, this is an absolutely anonymous method, since you do not need to provide personal data of any kind.
Ads
At the beginning, many Italians bought bitcoins for cash through ads: contacted the seller, met him in person and made the transaction. This is a less and less widespread method, also because it is increasingly difficult to find ads of this kind, but it is not impossible, see EBAY.
Of course you pay close attention to the buyer you contact. You will have to meet him in person, but before you even pay for it, make sure he has poured the bitcoins on your wallet.
To do this, you should keep a special app on your smartphone, so you can quickly check and confirm that it is safe to carry out the transaction.
Since the ads are not only rare, but not too safe, however, the sites of Exchange of bitcoin.
You will still have to meet the seller in person, but at least you will have some more guarantees regarding his seriousness.
Facebook groups
There are many Facebook groups looking for sellers and buyers to buy bitcoins for cash. Again it is advisable to meet the person and make the payment and transaction at the same time.
Buy bitcoins with eToro
To buy bitcoins with eToro or any other online platform, the first thing to do is sign up. In fact, with the registration you receive the access data with which to enter the trading platform to proceed with the desired purchase.
It is very important to choose the right platform for your investment and for this reason we recommend choosing only safe and reliable brokers, which are properly regulated. One of the most popular and used platforms in Italy is undoubtedly eToro, which is often used to buy bitcoins.
In addition to buying bitcoins, with eToro it is also possible to resell one's own digital currencies. The bitcoins that you buy on the platform are stored in your electronic wallet and this is great for all beginners who do not want to have a third party wallet. Here's how to proceed:
Step 1: open an account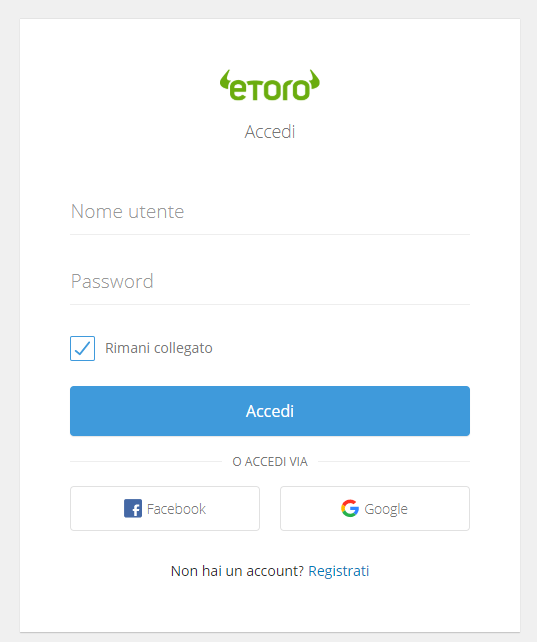 To sign up you need to go to the eToro homepage and click on the "Sign up now" button. At this point you will need to enter your personal details to open a brand new account.
If you don't feel like entering all of your details manually, you can do so by logging in through your Google or Facebook or Google accounts, which will skip the first part of the procedure completely.
Step 2: verify your identity
The platform offered by eToro is safe and regulated and it is precisely for this reason that it is necessary to verify your identity before starting to buy bitcoin. This additional verification requires users to send the broker a digital copy of their identity card, passport or driver's license.
Step 3: deposit the funds to buy Bitcoin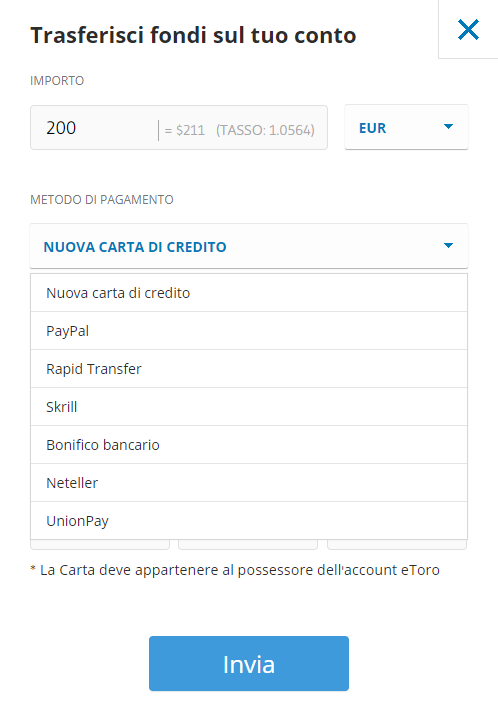 At this point, to buy bitcoins you need to add funds to your electronic wallet. You can do this using a credit card or bank transfer. However, the most recommended method is the e-wallet method. You can use PayPal, Skrille and Neteller among others. You can start by paying a minimum amount of € 200 to buy bitcoins with eToro.
Buy bitcoins with Coinbase
In addition to eToro, it is also possible to buy bitcoins with Coinbase, another safe and regulated financial provider, available in many countries around the world, including Italy. Every year, hundreds of new users sign up to this platform not only to buy bitcoin safely, but also to sell digital coins and other cryptocurrencies.
Coinbase boasts a user base of over 10 million traders. With such a great success story behind it, it is only natural that this platform has become very popular. In addition to buying bitcoin, on Coinbase it is possible to buy Ethereum Classic, Litecoin, 0X, BAT, Bitcoin Cash and Ethereum:
1. Sign up on Coinbase
The first thing to do to buy bitcoins with Coinbase is to register on the platform's website. Start by clicking on the sign up button at the top right. Enter your basic personal information, a valid email address to receive communications and choose a secure password to protect your account from malicious people. Remember to keep this password in a safe place.
2. Fund your account
To buy bitcoins with Coinbase, of course, you will need to have some money in your account. To make a deposit, you can choose one of the many payment methods available. In addition to bank transfers and Visa and Master Card credit cards, you can also deposit using popular e-wallets.
3. Buy bitcoins
Now you can start buying bitcoins with Coinbase. This platform is highly appreciated by users because it is intuitive and therefore easy to use. In addition to bitcoin, you can buy a wide range of digital currencies, including Ethereum and Litecoin. This is the best time to do it, because with many struggling fiat currencies around the world, the new safe haven asset appears to be cryptocurrencies.